Soledad: May 12 | 7pm
May 12 | 7:00 pm

-

8:30 pm

Join us Thursday, May 12 at 7pm PT for a screening of Soledad
and conversation with the legal team.
Soledad tells the story of a young woman from Central America who was imprisoned in the Eloy Detention Facility when she sought asylum in the United States in 2017. Soledad set out on a perilous journey from her homeland after enduring horrific persecution where she was kidnapped, sex-trafficked, tortured and nearly killed.
Attorney Shefali Milczarek-Desai, who took the case pro bono, mobilized a dream team of professional women, all of whom agreed to work for free on the case. Together, they secured Soledad's release from Eloy and ultimately prevailed on her asylum claim in a rare victory for an asylum seeker in the U.S.
Through one woman's story, Soledad illustrates the plight faced by many asylum seekers and refugees arriving at the U.S. border and highlights the incredible work of lawyers and activists who donated their time to fight for another woman's future. Soledad puts a human face to our current immigration system and invites audience members to reflect on what kind of country we want to be and how our stance on immigration impacts real human lives. Watch the Soledad trailer here.
PANELISTS: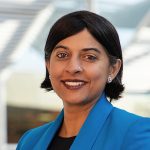 Shefali Milczarek-Desai (@Shefalimdesai) is Assistant Clinical Professor of Law, Director of the Workers' Rights Clinic, and Co-Chair of the Bacon Immigration Law and Policy Program at the University of Arizona's James E. Rogers College of Law. She is the recipient of the College of Law's Distinguished Public Service Scholar Award and a Sustainable Economies Law Center Fellow.
Professor Desai instructs the next generation of attorneys in client-centered and cross-cultural lawyering through representation of low-wage immigrant and migrant workers throughout Arizona's borderlands. Under her supervision, law students have worked on cases resulting in published decisions in the Ninth Circuit Court of Appeals and the Arizona District Court upholding the rights of asylum seekers and immigrant workers. She regularly speaks and presents on issues affecting immigrants including for the American Public Health Association, the State Bar of Arizona, the Arizona Women Lawyer's Association, and the College of Law. Professor Desai writes at the intersection of critical race and feminist theory and employment and immigration law.
Her current research focuses on how paid sick time laws and policies influence the legal rights and well-being of immigrant workers, racial justice for immigrant women nursing home aides working in the long-term care industry, and working alongside migrant workers who want to reclaim their labor through worker-owned cooperatives. Her work has appeared in The Conversation, the Columbia Human Rights Law Review, and the UCLA Women's Law Journal, among others. Prior to teaching, Professor Desai assisted in litigating Flores v. Arizona, a U.S. Supreme Court case concerning the rights of English Language Learners in Arizona public schools, practiced at the DeConcini McDonald law firm where she was elected shareholder, and clerked for Vice-Chief Justice Ruth V. McGregor at the Arizona Supreme Court. She is a Rhodes Scholarship Finalist, a Notre Dame Law School Feminist Jurisprudence award winner, and has published numerous articles and essays as well as a book manuscript selected as a finalist in an international competition. Her favorite pastimes include hiking in mountains, preparing Indian food, and reading to her sons.
Lisa Molomot, is an award-winning filmmaker who produces and directs social justice documentaries across North America. Many of her recent works, Missing in Brooks County, The Cleaners, Safe Haven and Soledad, have focused on immigration and immigrant communities. She is a graduate of the American Film Institute, is an American documentary producer, director and editor whose work has aired on PBS series such as Independent Lens and has been seen at film festivals all over the U.S., including Sundance, SXSW, New Directors, New Films and DOC NYC.
Lisa has taught filmmaking at Yale University, Wesleyan University, Colorado College and Trinity College and currently teaches at the School of Theatre, Film and Television, the Human Rights Practice Program and the James E. Rogers College of Law at the University of Arizona. To read more about Lisa click here.
Rosie Ibarra Lopez was co-raised by her Mexican immigrant parents and Central American step mother in Eloy, Arizona, is a first generation University college graduate who earned a Bachelor of Arts degree in law, cum laude from The University of Arizona in 2019.  Rosie is an immigrant rights legal advocate at the Florence Immigrant & Refugee Rights Project, a womanist, a gym enthusiast, a mother to three brilliant daughters and a devoted partner.  Rosie aspires to go to law school in the near future and proclaims that her most crucial job is to raise three good humans.