PARTNERSHIPS:
Program partnerships with Tiyya Foundation, HIAS, Haitian Bridge Alliance, World Relief, Multifaith Alliance for Syrian Refugees and Home for Refugees, and each Coalition member organization

 
FUNDRAISING AND DRIVES:
Funds raised for our partner organizations: Multifaith Alliance for Syrian Refugees, Home for Refugees, Haitian Bridge Alliance, World Relief, and for 

Lighthouse Peace Initiative (Lebanon)

Drives for diapers, toys and back-to-school supplies drives for partners Tiyya Foundation and Home for Refugees
Clothing drives for Friends of OC Detainees, San Diego Emergency Shelter for Asylum Seekers and Minority Humanitarian Foundation
Drive to support the San Diego Rapid Response Network shelter

 
EDUCATION:
Frequent speakers to inform our members and supporters about refugee and asylee issues and organizations working to support them
Screening of  "Exodus": a documentary about refugees and their perilous journeys to Greece and "This is Home": a portrait of four Syrian refugee families and their struggle arriving in the US
Educational programs introducing OC-resettled refugees to the Jewish community, including an exciting program with Refugee Chefs
An article in JLife Orange County reaching out to the broader OC Jewish Community
DIRECT OUTREACH:
Coalition members volunteering with OC organizations providing direct service to refugees

Coalition Leaders' participation in HIAS mission to Mexico to visit detainees & deportees

Home for Refugees home team for an Afghan family

Coalition members have opened their homes for temporary and long-term housing to asylum seekers
ADVOCACY:
Coalition Leaders' participation in OC advocacy training

Advocacy trainings, meetings, and outreach including vocal support of raising the refugee cap for the U.S. Refugee Resettlement Program and frequent meetings

with local policy makers and legislators

Op-Eds published by Coalition leadership
GATHERINGS:
Rallies/gatherings including Families Belong Together, the OC Women's March, Solidarity Rally and Vigil for the Muslim Community and the Great American Write-In

Jewish Observances including the HIAS Refugee Shabbat event and annually on Tisha B'Av

World Refugee Day open house with speakers, music, food, crafts and tabling
Refugee Chef Test Kitchen Project
The Refugee Chef Test Kitchen project is a collaborative effort of Home for Refugees (HFR) and the Orange County Jewish Coalition for Refugees (OCJCR).  We held two events prior to the pandemic and hope to have more as things open again.
The goals are to: 
Support the dignity and independence of newly arrived refugee women by providing vocational assistance and opportunities for them to showcase their cooking abilities. 

Provide opportunities to learn about the cultures and cuisine of refugees who are rebuilding their lives in OC and to hear their personal stories.Raise funds for Home for Refugees and OCJCR to support newly arrived refugee families. 

Build friendship and fellowship among attendees around the dining table. 

Our first two events featured a wonderful chef from Afghanistan.  The food, Afghan clothing and company were all fabulous!

In the future, we plan to have additional test kitchens for refugee chefs from other countries and to have a larger event that features cooking from multiple chefs.
In 2019, we held our first major event in recognition of International World Refugee Day.  Over 200 people attended and it was amazing!  We hope to participate again in future years.
In lieu of entrance fees participants were asked to consider participating in our collection drive the day of the event. Many brought new toys for ages 0-5 for families resettled by Home for Refugees, and/or new back-to-school supplies for the Tiyya Foundation's annual back-to-school event.
The 2019 event featured the following:
Meeting: Attendees met with representatives from local, national, and international agencies providing legal services and humanitarian aid to refugees, asylum seekers, and immigrants. They also met artisans who create hand-crafted unique items to support refugees.
Listening: Music was performed by local refugee artists
Learning: We heard from national experts about the global refugee crisis, from locally resettled refugees and asylum seekers, and found out how we can take local action to help.
Tasting: Food was catered by local refugees who have formed a social enterprise catering company.
Feeling: We had the opportunity to imagine what it is like to make the harrowing journey across the sea to safety in a tiny raft, as millions of refugees have done, through a live interactive installation.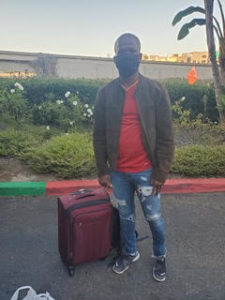 In November, 2020, we ran a Donation Drive for the Minority Humanitarian Foundation, an amazing organization that helps refugees, asylum seekers & asylees. MHF picks up people when they are released from ICE detention and provides them with basic needs such as clothing, food, transitional services, travel arrangements and temporary housing. 
The response from our community was terrific and included many clothing items, snacks, backpacks and suitcases as well as financial donations to fill in the gaps.
The man in the image above was recently released from detention and was headed to the airport to connect with family elsewhere in the US. His suitcase was provided by  OCJCR donors and was filled with basic necessities for his travel an immediate transition.
We have done other donation drives to collect toys, diapers and clothing for refugees, asylum seekers, and detainees.  These have been  in partnership with other local groups including Tiyya, Friends of OC Detainees, and the San Diego Emergency Shelter for asylum seekers.