OCJCR SPEAKER SERIES – Safe In The Nest: Bringing Education to Child Refugees
April 13, 2021 | 4:00 pm

-

5:30 pm
In early 2018, with the refugee crisis intensifying at America's southern border and throughout the world, PILA's work went global and opened their first "Nest," a play space for young asylum-seekers living in the Moria refugee camp on the Greek island of Lesvos. Since then, responding to needs as they arise, PILA has built additional Nests on the Greek island of Samos, in the Democratic Republic of Congo, two in Tijuana, and a recently opened Nest in Zimbabwe.
PILAglobal started in 2014 as the Pedagogical Institute of Los Angeles, or PILA, by a group of educators committed to equity. Early on, PILA partnered with LAUSD schools serving large numbers of low-income students to collaborate with teachers, transform classrooms, and rethink outdated educational practices.
Please join us for an exciting panel discussion with experts on innovative education for children and families impacted by displacement and poverty worldwide. We will meet PILAglobal COO and Chairperson, Lindsay Feldman Weissert, and refugee activist Bev Weise who has volunteered in the NEST in Samos, Greece.
---
CLICK HERE to register in advance for this meeting
After registering, you will receive a confirmation email containing information about joining the meeting.
Click here for the event flyer that you can download and/or share.
---
---
MORE INFORMATION ABOUT OUR SPEAKERS
---
Lindsay Feldman Weissert is the Chief Operating Officer and Board Chair at PILAglobal. A Los Angeles-based 501(c)(3),  PILA provides innovative education for children and families impacted by displacement and poverty worldwide. Since 2017, Lindsay has overseen the creation and expansion of high quality, safe, engaging, and beautiful early learning environments, called "Nests", in refugee communities around the world, including two centers in Tijuana, Mexico. She is a trustee of Classroom Africa, African Wildlife Foundation's school program, providing quality education to thousands of students in rural Africa. Lindsay has a Master's degree in Biomedical Sciences, where a focus of her research was on high quality educational and humor programs for youth coping with emotional challenges. She is a writer and activist committed to equity in early childhood education.
---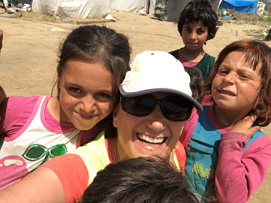 Bev Weise, MBA, is an Executive Coach and Leadership & Team Development Consultant.  She has over 35 years of experience in the corporate and nonprofit sectors helping individuals and teams develop their potential.  Prior to founding Leadership Talent Solutions, Bev was Executive Director of Interlaw Ltd., a global legal network, and the Corporate Director of Executive Planning and Development at Northrop Grumman Corporation.
In August 2016, Bev had a life transformative experience.  She volunteered independently in a refugee camp on the Greek island of Chios.  Through her Facebook  blogs, she  bore witness to one of the major humanitarian crises of our times unfolding in Europe.  She returned to Los Angeles a committed, passionate advocate for refugees.
Bev has traveled to Europe each year between 2016-2019 to connect with refugees in refugee camps and squats in Chios, Samos, Athens, and Izmir, Turkey. She has taught English to unaccompanied minors and to Syrian, Palestinian and Afghan women in refugee camps.  She volunteered at The Nest in Samos where she saw, first hand, how young children walked into a safe, inviting space, leaving the trauma of their journeys and living conditions at the door, becoming just happy, engaged regular kids—for a few hours.  She has traveled to Iceland, Norway, Germany and Turkey to visit her refugee friends who are rebuilding their lives in their new countries.
In Southern California, Bev is committed to heightening the awareness of the refugee crisis among university students, community members and interfaith groups.  She gives  presentations, teaches, convenes World Refugee Day events, and connects people who want to help refugees with opportunities to help locally and globally.
Currently, Bev is working on a project with Action for Education in Athens, Greece to provide pre-employment training and preparation for refugee youth (17-24 year olds) and to develop job opportunities with global companies seeking a diverse workforce in Greece. For more information about her work,  contact Bev Weise at bev.weise@gmail.com